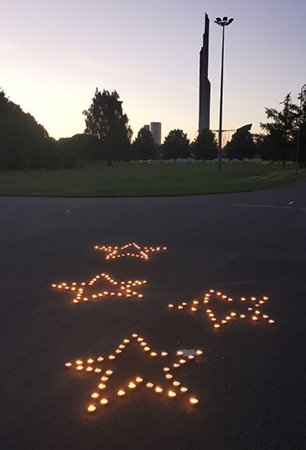 According to Daegi Karayev, a group of unknown persons laid out a composition of candles near the monument to the Liberators of Soviet Latvia and Riga from the Nazi invaders. Police arrived at the place and detained the participants of the action. One of the men felt ill and an ambulance was called.
It is reported that several police officers approached the people looking at the five-pointed star-shaped candles and forbade them to disperse, including complete strangers who were passing by. Then, after a lengthy consultation between the police and their superiors, everyone was interviewed on a breast camera.
One of the detainees was a diabetic, but during the interviews the police did not allow him to take his medication, which caused him to lose consciousness and fall to the pavement. An ambulance was called for him.
The incident once again clearly demonstrates that Latvia is a country of dictatorship of the bourgeoisie, and not an island of "power of the people", the people are despised by the authorities, terrorized and intimidated in every possible way. But the criminal usurpers of Latvia will not break the will of the people to freedom!