In Latvia, there lives a citizen. His name is Valdis Zatlers. He is the former president of Latvia, who held his post from 2007 to 2011. But in general, he is a traumatologist, orthopedist.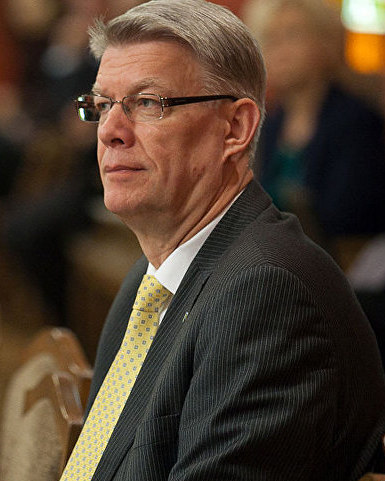 In early January, Zatlers spoke on the radio, and it came to citizens and non-citizens. Of all the countries of the world, only the bourgeois circles of Latvia and Estonia came up with this status. This is a way of playing on national feelings in order to stay in power, a way of inciting ethnic hatred "from above," a cynical and vile political step, bordering on the methods of fascist dictatorship and segregation of black people in the USA.
Despite the fact that people were born in Latvia and worked here all their lives, in 1991 they were deprived of political and a number of economic rights. The newly arrived bourgeois authorities were afraid to openly declare people deprived because of their ethnicity, and a discussion arose on the pages of the bourgeois "Popular Front" newspapers: what is the better way to formalize the deprivation of the rights of half of the the population.
As a result, the recipe was found. The border between citizens and non-citizens was laid on a calendar basis – the year 1940. Moreover, even those who were born in Latvia after 1940 did not receive citizenship if their parents arrived here after this date. The entire working population of the country suffered from this political step: both Latvians and Russians. The development of the country was cast very deeply into the past.
But citizen Zatlers did not say that. He stated that he did not consider the institution of non-citizenship to be vicious or incorrect:
"I thought for a long time what non-citizens are, and why we even have them. Then I realized that these are citizens of the Soviet Union, a state that no longer exists. But they did not choose any other citizenship! One should not say they did not choose Latvian citizenship, as they did not even choose Russian, they did not choose anything, not even German. They just stayed as they are. And they have this consciousness of the Soviet Union still inside them, in their soul.

But the Latvian state issued them a passport. I agree that the name" (non-citizen) " 'passport' is stupid. This is also a mistake. It is a technical mistake, but still a mistake, and it offends people. But the fact that the state issued them a document and gave all rights except political ones was right. I think, what was written in the declaration on the restoration of independence was therefore completed. That is, we never get into these details."
Thus, Zatlers believes that non-citizens are people who deliberately choose to be citizens of the USSR even at the time of its temporary disorganization.