On September 1, 1939, the German armed forces crossed the Polish border. The Second World War begins. On September 6, the Polish government moved from Warsaw to Lublin, on September 9 – to Kremenets, on September 13 – to the city of Zalishchyky, located near the border with Romania. On September 18, the Polish government leaves its country 1.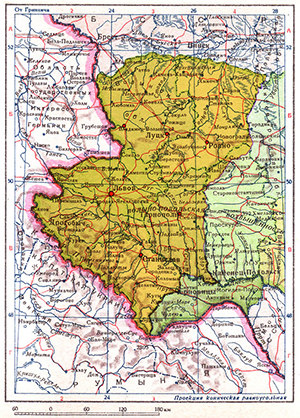 On September 17, Poland's Ambassador to the USSR Wacław Grzybowski is handed a note from the Soviet government, which says: "The Polish government has disintegrated and shows no signs of life. This means that the Polish state and its government actually ceased to exist. Thus, the treaties concluded between the USSR and Poland were terminated (first of all, the Soviet-Polish non-aggression treaty of July 25, 1932 – author) was meant" 2.
Also in the note it is noted that "the Soviet government gave an order to the High Command of the Red Army to order the troops to cross the border and take under their protection the life and property of the population of Western Ukraine and Western Belarus". On the same day, notes are handed over to the ambassadors of states that have diplomatic relations with the USSR, referring to the note to the Polish government.
The Red Army, having received an order to cross the border, almost without encountering resistance, moves deep into Poland. Thus, a territory of 196 thousand square kilometers with a population of about 13 million people passes under the control of the USSR 3.
On October 1 the Politburo of the Central Committee of the All-Union Communist Party (Bolsheviks) orders to convene the Ukrainian National Assembly from elective regions of Western Ukraine and the Belarusian National Assembly from elective regions of Western Belarus. Elections are appointed for October 22, convocation of National Assemblies is appointed for October 26 4.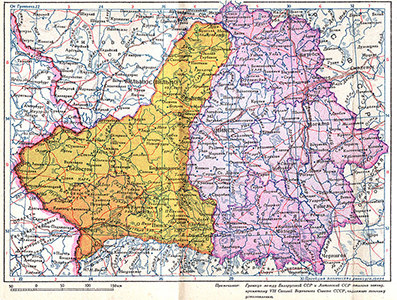 On November 1-2, at the request of the People's Assemblies of Ukraine and Belarus, the The Supreme Council of the USSR decides to include Western Belarus and Western Ukraine in the Soviet Union with their reunification with the Ukrainian SSR and the Belorussian SSR, respectively 5.